| | |
| --- | --- |
| | |
|  BMW X2 | Audi Q3 |
Comparing the 2020 BMW X2 to the 2019 Audi Q3
When you are looking or a model that has a style to help it stand out from the crowd, the 2020 BMW X2 is the one for you. Not only will you be turning heads with the coupe-like design, but you will be impressing all those you drive by thanks to a variety of powerful engine options. You and your passengers can enjoy your time inside with the wide range of infotainment and comfort features.
The 2019 Audi Q3 is a strong contender for this class. While these models have many similarities that make them good choices for your driveway, the 2020 BMW X2 pushes ahead in several ways. We want to help you see the differences between the Audi Q3 and the 2020 BMW X2 by providing you with a side-by-side comparison of some of the top features.
Make an Inquiry
* Indicates a required field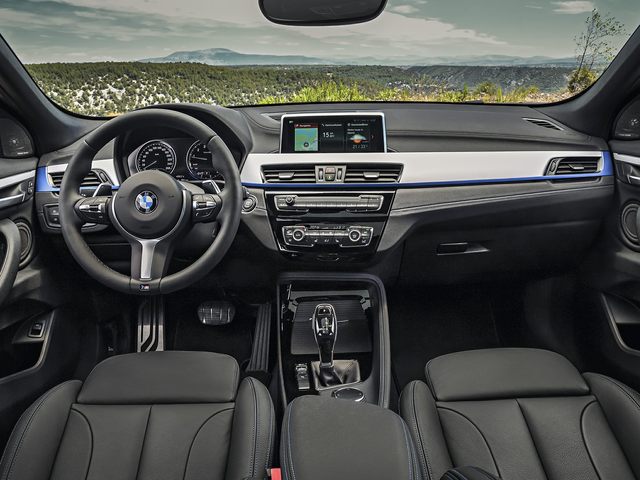 2020 BMW X2 vs 2019 Audi Q3
Both models offer 228 horsepower on their base engine.
The BMW X2 can be equipped with front-wheel drive or all-wheel drive while the Audi Q3 only lets you equip all-wheel drive.
Both models come with an eight-speed transmission for a smooth and controlled performance.
The 2020 BMW X2 brings you more overall cargo space than the 2019 Audi Q3 does.
Apple CarPlay is equipped on the range of trims for both the 2020 BMW X2 and the Audi Q3.
You get better fuel efficiency when you choose the 2020 BMW X2 over the 2019 Audi Q3.
Both models offer spacious seating for both front and rear passengers.
You'll find a variety of driver assistance features coming standard on these two models.
The 2020 BMW X2 has a larger fuel tank capacity to cut back on the number of times that you will need to stop during your drive.
The 2020 BMW X2 offers a performance-based trim while the 2019 Audi Q3 does not.