| | |
| --- | --- |
|   | |
|  BMW X4 | Mercedes-Benz GLC |
Putting the BMW X4 and Mercedes-Benz GLC in a Head-to-Head Comparison
BMW started its line of Sport Activity Coupe models in 2008, carving out a new section of the automotive market for drivers who were looking for a sporty and capable option for their family. One of these SUVs is the BMW X4 - being in the middle of the BMW X models in terms of size - offering a lot of potential for you.
Mercedes-Benz has entered a competitor in the category - the 2019 Mercedes-Benz GLS Coupe - and while it is impressive, we wanted to see how it could stand up to a titan like the BMW X4. Take a look at our comparison and decide for yourself which one comes out on top.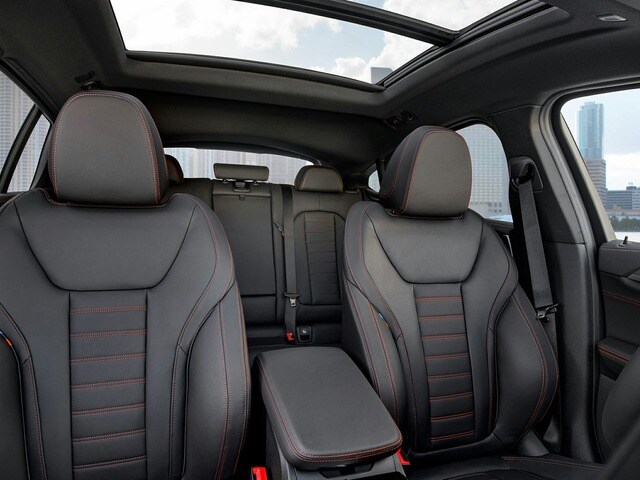 2019 BMW X4 vs 2019 Mercedes-Benz GLC Coupe
A wider array of features gives the BMW X4 a slightly higher starting price than the Mercedes-Benz GLC.
Sophisticated all-wheel drive systems come standard on both models.
The cargo space of each model is similar, putting 19 cubic feet behind the rear rows and maxing out at nearly 60 cubic feet.
A variety of advanced driver assistance and safety features come standard and available for both models.
The standard engine for the 2019 BMW X4 gives you more power than the engine for the Mercedes-Benz GLC.
The only way that the GLC Coupe can get more horsepower than the BMW X4 is to upgrade to an AMG trim.
The iDrive Infotainment system is more advanced and intuitive, offering a touchscreen while the Mercedes COMAND option does not.
Passengers will be comfortable in either option, having just about the same head, leg, and shoulder space in the front and rear seats.
The screen of the 2019 BMW X4's infotainment system is larger than the screen of the Mercedes-Benz system.
Apple CarPlay™ is only an option on the 2019 Mercedes-Benz GLC Coupe, but it comes standard on the BMW X4.