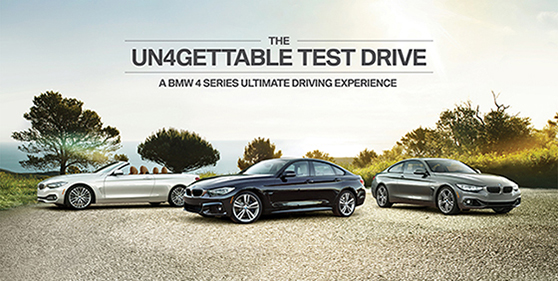 The Un4gettable Test Drive is here. It's your exclusive opportunity to experience the
power and aesthetics of the BMW 4 Series in a unique one-day event.
You'll see just how Un4gettable the 4 Series really is with its stunning looks,
dynamic feel and pulse-pounding 300-horsepower engine.

July 1, 2014
11:00 am- 6:00 pm
Join us to test drive this all-new BMW
and for refreshments throughout the day.

Click Here to RSVP
and reserve your time to test drive.

You will have the opportunity to test drive the following 4 Series vehicles:
BMW 428i Convertible
BMW 428i Coupe
BMW 435i Convertible
BMW 435i Coupe


The new BMW 4 Series Convertible and Coupe will be offered in the U.S. as both a 428i, featuring BMW's award-winning TwinPower Turbo 2.0-liter 4-cylinder and as a 435i with the multi-award winning TwinPower Turbo 3.0-liter inline six. Both the 428i and 435i Convertible will feature a standard 8-speed sport automatic transmission. The 428i and 435i Coupe will be available with a standard 8-speed sport automatic or six-speed manual transmission. The 428i Convertible will be offered with a choice of rear-wheel drive or with optional xDrive, BMW's intelligent all-wheel drive system, while the 435i Convertible will be available with rear wheel drive. The 428i and 435i Coupe will also be offered with a choice of rear-wheel drive or with optional xDrive.
In addition to the 4 Series selections, we will have the Full Line of BMW models, along with other makes available for test drive comparisons. Our BMW Genius Crew will also be on hand to answer any questions so make plans to attend this Un4gettable Test Drive Event!
Rick Hendrick BMW
1518 Savannah Hwy
Charleston, SC 29407
(843)763-8403
www.RickHendrickBMW.com
Find us on Facebook at www.Facebook.com/RickHendrickBMW
For your convenience, there are several ways for to check the value of your vehicle.
Feel free to
Evaluate Your Trade In with Black Book Online
Also, please feel free to contact your Client Advisor or our Sales Department at
(843)763-8403 to schedule a detailed on-site vehicle evaluation with our Pre-Owned Manager.

Rick Hendrick BMW Charleston is also the only dealer in our area for

BMW Certified Pre-Owned vehicles and SAVs
. Along with New BMW cars and SAVs , we also feature a wide variety of
other make and
Hendrick Affordable cars and SUVs
.
Feel free to stop by or our
Pre-Owned Inventory
online at your convenience.