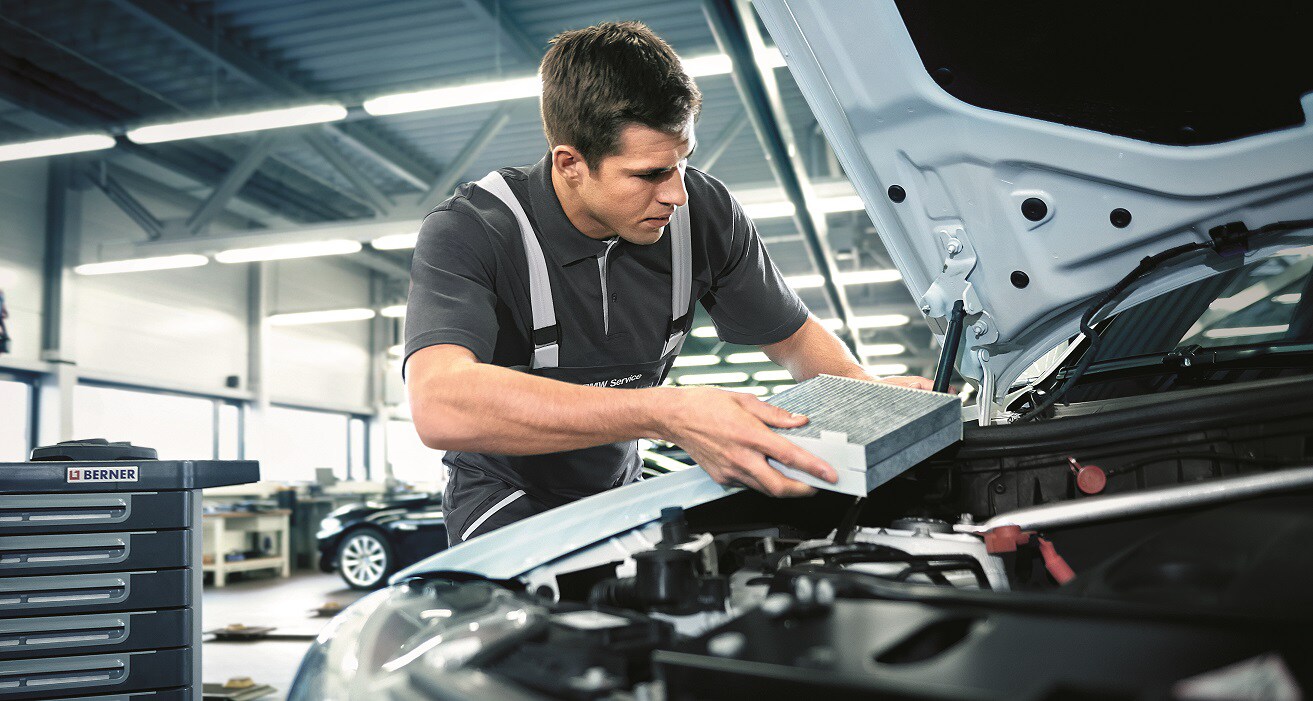 Whether you've purchased a used or new BMW from Hendrick BMW Charleston, you're bound to ask, "When should I bring my BMW in for service?" That's why the BMW engineers have compiled the BMW Maintenance Schedule, which helpfully lists all the maintenance activities your BMW needs to stay in top shape, no matter how many years you drive it on the roads around Charleston.
Before you schedule service with our service department, take a look at this list to see what your BMW might be due for.
Schedule Service
Service Coupons
BMW Preventative Maintenance: Every 5,000 Miles
Every 5,000 miles, or 2-3 times a year is how often you should expect to bring your BMW in for routine preventative maintenance, which includes the following:
Brake fluid check
Brake inspection, front and rear
Cabin air filter inspection
Coolant check
Engine inspection
Engine oil check
Tire rotation, if necessary
Vehicle inspection
Wiper blade inspection
You'll also want to keep an eye on your BMW's Condition Based Service Monitor, which tracks the condition of the important systems in your BMW and can tell you if you need service immediately. Our service technicians also use the Condition-Based Service Monitor to determine what we need to replace or repair when you bring your BMW in.
Recommended Maintenance Schedule
Other recommended maintenance will vary in frequency, depending on how and where you drive, as well as your BMW model. Read your vehicle's owner's manual for details, but you should expect the following BMW mileage service intervals:
Every 10,000 miles: replace engine oil, oil filter, and coolant
Every 20,000 miles: inspect and replace fuel filters
Every 30,000 miles:

Replace brake fluid (after the first replacement, every 60,000 miles)
Replace transmission fluid on manual-transmission BMWs

Every 60,000 miles:

Replace engine air filter and spark plugs
Inspect and replace brake pads and brake rotors, as necessary
Replace transmission fluid on automatic-transmission BMWs

Every 90,000 miles: replace timing belts and hoses
After 90,000 miles of these BMW service milestones, you should repeat the above cycle, as well as continuing your 5,000-mile maintenance schedule. In addition, remember that the New Vehicle Limited Warranty on your BMW will run out after 50,000 miles, so make sure that you take care of covered repairs before then. Your battery might also need to be replaced around 50,000 miles.
What's BMW Ultimate Care+?
If you want the ultimate peace of mind for the road ahead, BMW Ultimate Care, BMW Ultimate Care+, and BMW Value Service programs can extend your warranty coverage for up to 7 years or 125,000 miles, or even for as long as you own or lease your BMW.
All service performed under these packages is only performed at authorized BMW Centers by BMW Trained Technicians that use only BMW Original Parts. That means your BMW will stay the Ultimate Driving Machine® for as long as you have it - and when you upgrade to Ultimate Care+ 1, 2, 3, or 4, you'll save up to 30% on scheduled maintenance by paying in advance.
Schedule BMW Service Today in Charleston
Whether you need to rotate your BMW tires, perform a BMW oil change, or other BMW car maintenance, the service technicians at Rick Hendrick BMW Charleston are here to help. We have the tools and experience it takes to perform the BMW car repair you expect. Give us a call or schedule an appointment online today!
Schedule Service
Service Coupons
Frequently Asked Questions
Do I need to schedule an appointment for BMW maintenance?
In order to ensure the fastest possible service experience, we recommend scheduling your service appointment online or by phone. This way, you can set aside time that's convenient for you and have your car serviced soon after check-in.
Can I get my BMW oil change anywhere?
Yes. You can get an oil change for your BMW at any mechanic shop that performs this service. However, we recommend getting your oil changed at an authorized BMW service center where our technicians are trained to work specifically with your model with the best engine oil available. Learn more about BMW oil changes.
If you don't rotate your tires regularly, your tires can experience prolonged periods of uneven wear, causing certain tires to lose tread much faster than others and require replacement. Learn more about BMW tires.
What color is brake fluid?
Healthy brake fluid should be a nearly clear color with a yellow tint - basically, almost the same color as it was when you purchased it.